WBI Healthy Lifestyle Challenge Week Four
Welcome to our program dietitian, Vicki Bovee, and her husband Bill's healthy lifestyle challenge. Because we can always do better to live a healthier lifestyle Vicki and Bill decided to work on a weekly challenge together to provide support and accountability for each other. Follow along with them as they tackle a variety of challenges to eat better, eat more mindfully, and improve physical health and emotional well-being. Vicki and Bill invite you to participate and accept the challenges to improve your lifestyle too. Some of them may be difficult and please feel free to modify the challenges to accommodate your dietary needs and physical abilities.
It's time to be an "Herb-I'm-For."
Challenge #4– Include a fresh herb in your meal plan daily.
In the spring I had this grand plan to plant an herb garden and cook with fresh herbs. I planted flat-leaf parsley, chives, oregano, thyme, rosemary, and of course, basil. The herbs did fine but my plan to cook with them didn't fare as well. Either we were too busy to think about them or I just plain forgot to use them. So I was looking at these beautiful, healthy, easily accessible herbs and decided we needed to eat them. Not only do they add flavor but they contain antioxidants that may have health benefits that affect heart disease, cancer, diabetes, and osteoarthritis.
Fresh herbs can take your dish from blah to flavorful. The herbs should enhance the main ingredients, not overpower them and since some are more pungent or strongly accented than others, the amount you use will depend on the herb. Fresh herbs should be added at the end of cooking or added to no-cook dishes. Using fresh herbs in long-cooking dishes, like in your slow cooker, makes the leaves bitter and slimy. (Yuck!)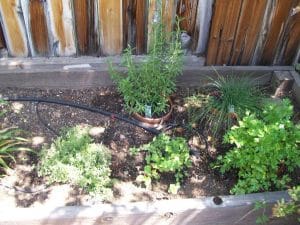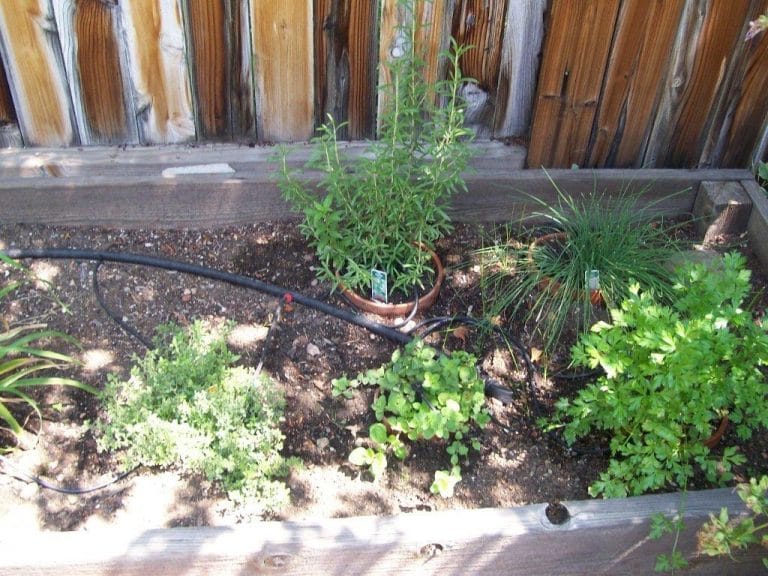 Our first step to meet this challenge was to get out our cookbooks and search for recipes. We also did internet searches for recipes using the herbs in our garden. I didn't want to limit ourselves to only those so we added tarragon and dill (I was hungry for salmon which pairs beautifully with salmon). Now Bill has very limited culinary skills (his specialty is a bowl of Cheerios) and since he was going to responsible for some of the meals we had to also select recipes that he could put together. I did the "heavy lifting" on the weekend with actual cooking while Bill made dinner during the week. He had a small meltdown with one recipe because he had to turn on the stove and use the mini-chopper, but in the end it tasted great. And since he is a novice, he learned the lesson that a ¼ cup of something (in this case, sugar) rather than ¼ teaspoon really changes the taste of a final product. Pouring in some vinegar helped with that.
Our big day was Sunday when I managed to include fresh herbs in all three meals. Scrambled eggs are a perfect vehicle for fresh herbs. Here is a list of what we prepared and the herbs used. Click Here for the recipes. Not all were successes. We did have one recipe that neither of us liked and didn't eat it. (Don't eat food you don't like. It's a waste of calories.) The flavor combinations of the two main ingredients (crab and cantaloupe) didn't work for us.
 Poached Salmon with Piccata Sauce (dill)
 Basil-Oregano Bean and Chicken Salad (basil, oregano)
 Fresh Herb Mayonnaise (parsley, chives, basil, dill, oregano) This was our jackpot recipe (5 herbs) and it was really great on fresh tomato sandwiches.
 Pasta with Artichoke Sauce (oregano, thyme, parsley)
 Tuna and Red Pepper Antipasto (parsley, rosemary)
 Tarragon Chicken (tarragon)
Vicki's observations:
• Let me tell you how great it was to come home from work and have dinner ready.
• Bill can find his way around the kitchen if need be.
• No last minute of "What's for dinner?"
• Every dinner was fresh, healthy, and used minimally processed foods (we did use canned beans).
• Since it was a homemade dinner, we sat down at the table and "dined" instead of just eating dinner.
• It was fun to try new recipes.
• Bill is signed up for culinary boot camp and that will be a good thing for both of us.
Bill's observations:
• The hardest part was washing and cutting up the herbs because I didn't know how to cut them up efficiently.
• The fresh herbs added color, nice flavor and they're doing good for you.
• The food tasted good and it wasn't from adding salt.
• It was rewarding that I could make something from scratch that looked and tasted good rather than heating something in the microwave or buying ready-made at the store.
• I'm off to culinary class.
Your challenge this week, should you choose to accept it, is to include a fresh herb every day in one of your meals. If you need some help with this one, check out the recipes we used or do an internet search of your favorite herbs.
For more information about fresh herbs including herb and food combinations, chopping, and garnishing Click Here.
As we entered week 5 we both noticed that even though we may have completed a challenge week, the concentrated focus on a challenge continues to make us aware of what we are doing. I can tell you our cheese consumption has dropped and we will not be eating cheese hot dogs served on "cheese-injected" buns. And yes, we continue to walk sideways down our hall.
Be prepared to practice more mindful eating next week……
Eat Smarter…
Vicki Bovee, MS, RDN, LD
Want to catch up on what you've missed?
The road to success is always under construction. Click Here
Challenge #1 Eat everything sitting down. Click Here
Challenge #2 Eliminate cheese as an ingredient. Click Here
Challenge #3 Walk sideways in your home. Click Here
Online Seminar
We offer a free bariatric surgery seminar presented by John Ganser MD, FACS. Please register to learn more about:
Western Surgical's Bariatric Surgery Division - Western Bariactric Institute
The Obesity Epidemic
Weight Loss Surgery Options