The 100 Day Gong….#58 of our Healthy Lifestyle Challenges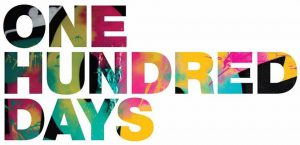 Over two years ago in July 2014, program dietitian Vicki Bovee and her husband, Bill, committed to do a weekly challenge for a year to improve their health and lifestyle. Vicki and Bill decided to tackle a variety of challenges to eat better, eat and live more mindfully, and improve physical health and emotional well-being because there is always room for improvement. They successfully completed a year of challenges but that didn't mean they were finished.
Challenge #58 The 100 Day Gong
Back in Challenge #57 we decided to read and practice lessons from Pedram Shojai, the Urban Monk. We were working towards the goal to make our lives more balanced and healthier. We bought his book and each chapter discusses a major life issue we have in our modern world such as stress, time management, fatigue, unhealthy eating, and delves into the problem and solutions.
One of the practices Pedram recommends to build a healthier lifestyle is the 100 Day Gong. The Chinese word gong translates to mean cultivation or work. A gong is a designated amount of time you spend daily to develop a new habit. Traditionally it meant physical, spiritual, or mental but a gong can be anything to improve your health including diet, exercise, or sleep.
Now you may have read or heard that it takes 21 days to make a new habit. Well hold on here folks. Those 21 days will not break an old habit or cement a new one. It takes 100 days! Some think the first 40 days are spent breaking the old habit and the next 60 days are to establish the new habit. After 100 days you should have your new healthier habit in place. Here's the deal…if you miss a day you have to start over. This forces you to pay attention and focus. No excuses.
Bill and I chose different gongs. We thought about it for several days before we made our commitment. I decided to eat dinner at the table with no TV. Bill decided to do a qi gong exercise called "49 knees".
Vicki's observations:
I wasn't eating dinner in front of the TV a lot but, for me any eating dinner in front of the TV is too much. I framed it into the positive. If I'm not eating in front of the TV, where would I be eating? Rather than saying "I won't eat in front of the TV" I turned it around to "I will eat dinner at the table with no TV."
I was going to eat dinner somewhere. It wasn't always at our table but it was at someone's table. At our neighborhood Memorial Day BBQ I brought my tray table. At our neighborhood 4th of July BBQ there wasn't a table outside so I went inside my neighbor's house and ate by myself at their table. That was rather peaceful.
It's a whole lot easier to eat slower, enjoy your food, and practice more mindful eating without the boob tube.
At home I found myself eating just about every meal at the table. Get food, walk over to table. I didn't eat any meals in front of the TV. At work I was already eating lunch at the table in the break room, a habit learned from Challenge #10 back in September of 2014. Wow! I haven't eaten lunch at my desk in almost 2 years!
When I first told Bill about my gong he said, "I'm not going to do that." Bill likes to eat in front of the TV. Well Bill, you don't have to. This is my gong. For quite a while he joined me at the table but then the TV crept back in occasionally at dinner, As the days passed I found myself getting annoyed with him for eating in front of the TV and then just the TV got even more annoying.
On day 100 I ate my celebratory dinner by myself on the patio at the table. Bill ate his dinner in front of the TV. It was an uneventful meal but nonetheless, very pleasant with the sense of accomplishment.
I am well past my 100 days and I have no desire to eat in front of the TV. I like eating at the table. As a friend of mine said to me years ago, "Where else would you eat? Anywhere but at the table is rude." That has always stuck in my head.
I have started my second 100 Day Gong and this one is a traditional gong. I am practicing my Tai Chi daily. The teachers and advanced students I know practice daily and just like anything else, if you want to get better at something, do it more often.
Bill's observations:
Doing something for more than a week continuously is difficult for me so doing something every day for 100 days was going to be a major challenge.
I choose to do the qi gong meditative exercise called "49 knees". You simply sit on the edge of the bed or chair and rub both knees in a circular motion 49 times, making sure to rub the inside and outside of the knee. You start with your hands on the inside of your thighs and rub all the way down to you ankles and then rub up the outside of your legs to your hips then back down the inside.
It took only 18 days for me to have a senior moment and forget to do my "49 knees." I had to start over but there were no mulligans (replays) as in golf.
I started a new list but I continued with my original list just so I could complete it. I did "100 knees" when I was doing both gongs until I completed the first 100 days.
Vicki caught me doing my "49 knees" in front of the TV. She said this was a "no no" as I am supposed to be focusing and concentrating on relaxation. I guess she doesn't know I can multi task…lol. It was much better when I started doing it in quiet.
I actually felt the energy flowing through my body when I was finished.
I continue to do my "49 knees" daily.
I encourage you to take the 100 Day Gong challenge. Think carefully about what you choose because you want to be successful. Here are some tips to help you:
It has to be something you can do for 100 days no matter where you are. Vacations or holidays are not an excuse.
Make it a positive, what will you do, not what won't you do.
Try to do it at the same time so it becomes part of your routine.
Print out and keep the gong tracking sheet where you can easily see it.
Remember, it takes a lot longer than 21 days to make a new habit.
Eat Smarter…
Vicki Bovee, MS, RDN, LD
Online Seminar
We offer a free bariatric surgery seminar presented by John Ganser MD, FACS. Please register to learn more about:
Western Surgical's Bariatric Surgery Division - Western Bariactric Institute
The Obesity Epidemic
Weight Loss Surgery Options