Sleeve Gastrectomy Procedure in Reno
If you browse our gallery of surgery patients, you will see transformations in both body figure and emotions. The smiles on the faces of Western Bariatric patients say it all; we have given people their lives back thanks to procedures like the vertical sleeve gastrectomy.
The gastrectomy sleeve procedure involves the surgical removal of a portion of the stomach. When finished, the stomach only retains about 15% of its original size. The result is a "sleeve" that cannot hold as much food, and therefore reduces cravings.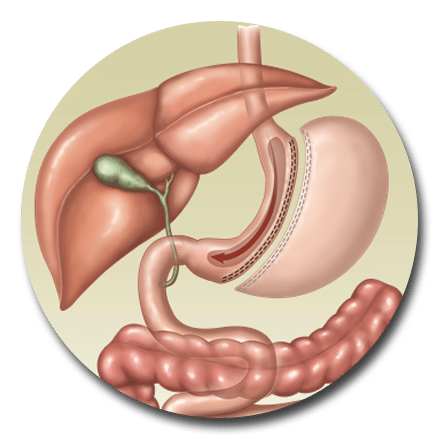 The sleeve gastrectomy is the fastest-growing weight loss procedure in North America, and the experts at Western Bariatric play a part in providing care to the Reno community and beyond. The increase in the surgery's popularity is due to its minimally invasive nature and comparable effectiveness to the more intrusive gastric bypass option. All the while, this procedure avoids many of the complications associated with more invasive procedures. If you need further proof of its benefits, look at our VSG before and after gallery.
Please contact Western Bariatric to see if you are a candidate for vertical sleeve gastrectomy surgery. While highly innovative, this surgery is not for everyone, nor is it a fix all to weight gain. To discuss your weight loss options with our experts, call 1-877-985-6771 or visit our contact page.
Online Seminar
We offer a free bariatric surgery seminar presented by John Ganser MD, FACS. Please register to learn more about:
Western Surgical's Bariatric Surgery Division - Western Bariactric Institute
The Obesity Epidemic
Weight Loss Surgery Options