Good Bye, Farewell, Auf Wiedersehen, Ciao, Adios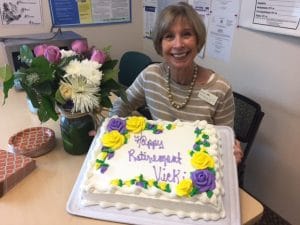 After a 40 year career as a registered dietitian I am retiring. I have spent most of my career working in weight management, and since 2003 specializing in my passion, bariatric nutrition. It has been challenging and rewarding for me. Without a doubt, the best part of my job has always been working with the patients. I have met so many amazing and wonderful people along the way.  When I see patients walk in the door who are healthy, happy, and living life it pleases me that I was able to help them achieve a new lifestyle.
I now have a full time job as a caregiver. My husband had an ischemic stroke in April. Appreciate every day because you never know what is around the corner. Strokes do not discriminate. Bill had no risk factors, no family history, no warning signs, and no symptoms. My retirement will include resuming my exercise routine, continuing healthy eating, getting enough sleep, and reducing stress. These are doctors' orders for Bill's recovery and good advice for all of us.
Thanks to all of you who have enriched my life, and I wish you success and good health.
Eat Smarter…
Vicki Bovee, MS, RDN, LD
"Be kind whenever possible. It's always possible." –Dalai Lama
Online Seminar
We offer a free bariatric surgery seminar presented by John Ganser MD, FACS. Please register to learn more about:
Western Surgical's Bariatric Surgery Division - Western Bariactric Institute
The Obesity Epidemic
Weight Loss Surgery Options