Check out our new vegan protein supplement!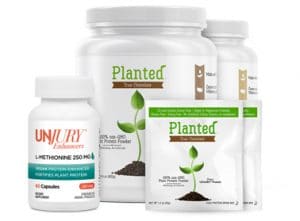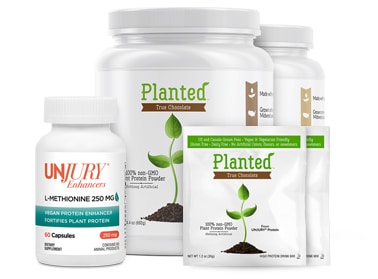 Our WBI Health Store is pleased to offer a vegan, high quality protein supplement. The makers of Unjury now offer Planted™, a plant based protein supplement. While whey protein isolate is the very best source of protein for its amino acid profile and digestibility score, some individuals prefer an alternative protein for a variety of reasons. Pea protein is an excellent choice for individuals consuming a plant-based diet, for those with food allergies or sensitivities, or for those looking for a sustainably grown protein source. Planted™ is a source of natural pea protein that mixes and digests easily. It is hypoallergenic. Try the True Chocolate for a convenient creamy shake, or get creative with the Unflavored variety which can be used in an assortment of recipes!
UNJURY® Vegan Protein Enhancer is a methionine supplement that improves the amino acid profile of the pea protein – and other legume-based protein including soy — and enhances the overall quality. Methionine is an essential amino acid, which means it is not made by the body and must be acquired through diet. Like other amino acids, it is required for growth and tissue repair. Just one tablet with one serving of Planted™ means you are getting a complete, high quality protein.
Planted™ is made with 100% non-GMO peas harvested in the United States and Canada and is:
Vegan and gluten-free
Very low in fat and sugar
0 grams lactose
20 grams of protein per serving, 20 servings per container
Online Seminar
We offer a free bariatric surgery seminar presented by John Ganser MD, FACS. Please register to learn more about:
Western Surgical's Bariatric Surgery Division - Western Bariactric Institute
The Obesity Epidemic
Weight Loss Surgery Options