Hell's Kitchen Celebrity Chef Undergoes Weight Loss Surgery
LEARN MORE ABOUT WEIGHT LOSS SURGERY AND THE GASTRIC SLEEVE
Watch Online Seminar
"Thank you Western Bariatric Institute of Reno. You saved my life." – Celebrity Chef Robert Hesse
1-15-2014 – ONE YEAR LATER…Weighing in at 219 pounds*!! Congratulations chef, we are so proud of you.
 * results may vary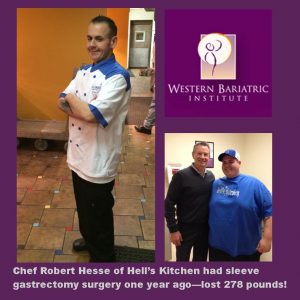 12-10-2014 –  Chef Hesse is down 300 pounds since his highest weight*! Happy Holidays and healthy eating this season!
 * results may vary
Aug. 1, 2014 – Six months later lost 170 lbs…at 228 lbs and feeling amazing. Loving life! Now in a 40-42 waist and a xxl shirt. I work out and do things right. Thank DR. GANSER AND THE WESTERN BARIATRIC INSTITUTE TEAM!*'
* results may vary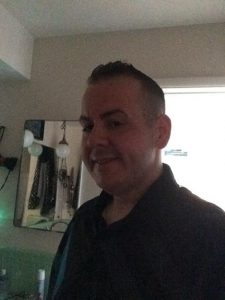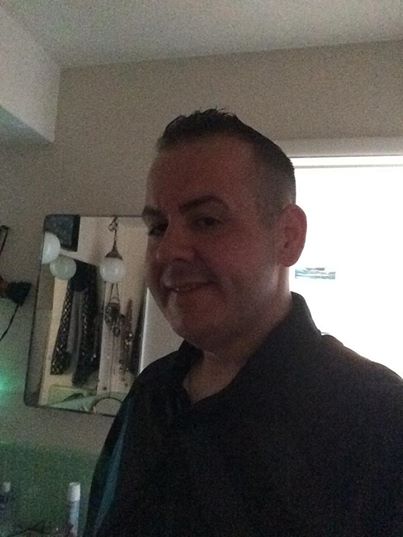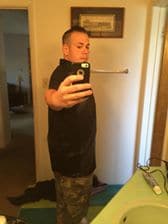 July 2, 2014 – Ok freaking awesome!!! First time ever on plane no extension belt. Going to NYC you will all see very soon!!" — traveling to New York, New York from Reno-Tahoe International Airport. Facebook Post from Chef Hesse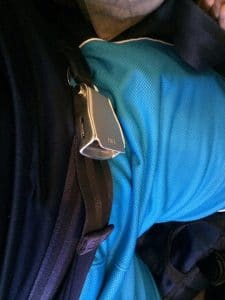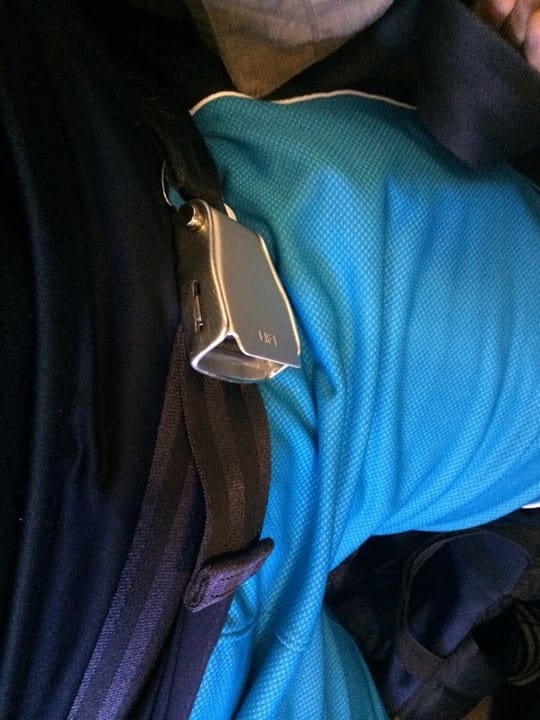 June 27, 2014 – Chef and Dr. Ganser on channel 2,  Health Watch segment with Wendy Damonte.
May 16, 2014 –  Chef rides a roller coaster for the first time!! "So I'm excited to say after years a lifetime really never riding a roller coaster and everyone knows about that darn test chair for public display to see if you fit. Or you wait in line to be embarrassed to be asked to get off the ride is over for me. Since my surgery with WBI, Dr. Ganser and Curtis I have gotten my freedom back. Because of the sleeve gastrectomy, I have lost more than 100 lbs since Jan 15. And feel amazing! The care and respect from WBI is top notch. Truly my life was saved. Everyday I wake up blessed and full of energy to take the world on. Just got back from SIX FLAGS and rode every ride 6 times and was a kid again fulfilling dreams and wishes and felt a part of the fabric to an outcast. Thank WBI" – Chef Hesse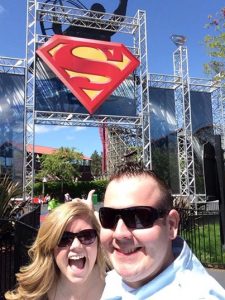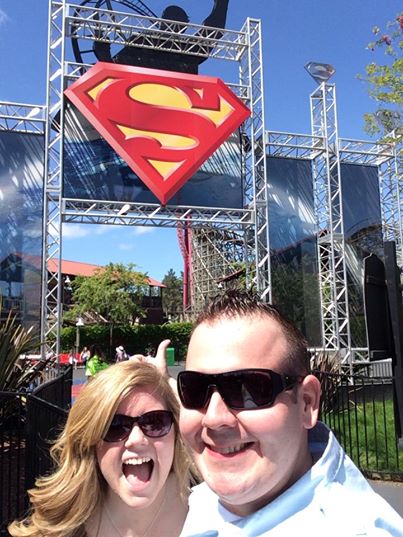 May 1, 1014 – 4 months after surgery. Chef Hesse is looking and feeling great!
April 10 –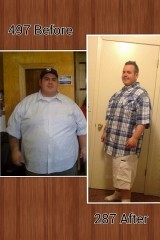 Before and after photo, 497 lbs – 287. "Thank you Western Bariatric Institute of Reno. You saved my life." – Chef Hesse
April 1 –   I'm a 48″ waist, are you kidding?? This is awesome. – Chef Hesse
March 6 –   Chef Facebook post:  "Today is the first day in the gym!!!! I am excited to keep my journey going. Thank you Western Bariatric and Eric from Sports West." – Chef Hesse
Feb. 26 – : Chef Facebook post: "Was a 62 waist. Now a 54!" – Chef Hesse
Feb. 14 –   Chef is four weeks out and down 32 pounds…He will need to change his motto soon. Always Trust a Skinny Chef!
Video 2 –  "I am ready to rock this! Can't save the world until you save yourself!" – Chef Hesse
Video 1 –   Chef Hesse "Get ready to see lots and lots of less of me!"
News Release  –  RENO, Nev. – Eldorado celebrity chef and "Hell's Kitchen" fan favorite, Robert Hesse, is scheduled to undergo weight loss surgery with Western Bariatric Institute (WBI) at Saint Mary's Regional Medical Center with assistance from Associated Anesthesiologists. Hesse, 35, will undergo vertical sleeve gastrectomy, one of the newest weight loss procedures performed by surgeons throughout the country.
Many people who are obese struggle for years to lose weight through diet and exercise, but fail. Only after they have tried other methods of losing weight are they considered candidates for weight-loss surgery.
Vertical sleeve gastrectomy, or "sleeve", is one of the newest weight loss procedures and is the fastest growing procedure in the United States. The sleeve procedure removes about 80 percent of the stomach and generates weight loss by reducing appetite and promoting satiety as well as producing hormonal changes in the gut.
"What makes the sleeve gastrectomy especially appealing is that it avoids the potential long-term problems associated with other weight loss procedures while providing excellent results." says Dr. John Ganser, Medical Director at Western Bariatric Institute.
Currently Chef Robert works as a chef for the Eldorado Casino. Chef was inspired to cook by watching his grandmother and mother in the kitchen as a boy growing up in Long Island, NY. After receiving his degree in Culinary Arts, Robert brought his "strong island" street honed personality to the hit FOX reality show, "Hell's Kitchen" and into the hearts of America as the Season 5 fan favorite.
"I want people to know the real work begins the day after my surgery. You can't save the world until you save yourself," adds Hesse.
LEARN MORE ABOUT WEIGHT LOSS SURGERY AND THE GASTRIC SLEEVE –Watch our online seminar. 
To learn more about the sleeve procedure and other weight-loss programs contact Western Bariatric Institute watch our online seminar or call 775-326-9152.
Thank you to Western Bariatric Insitute, Saint Mary's Regional Medical Center, Associated Anesthesiologists and Dr. Ganser for making this happen! 
Online Seminar
We offer a free bariatric surgery seminar presented by John Ganser MD, FACS. Please register to learn more about:
Western Surgical's Bariatric Surgery Division - Western Bariactric Institute
The Obesity Epidemic
Weight Loss Surgery Options