Celebrate National Nutrition Month®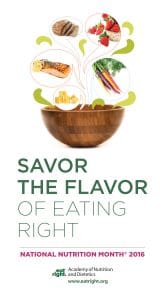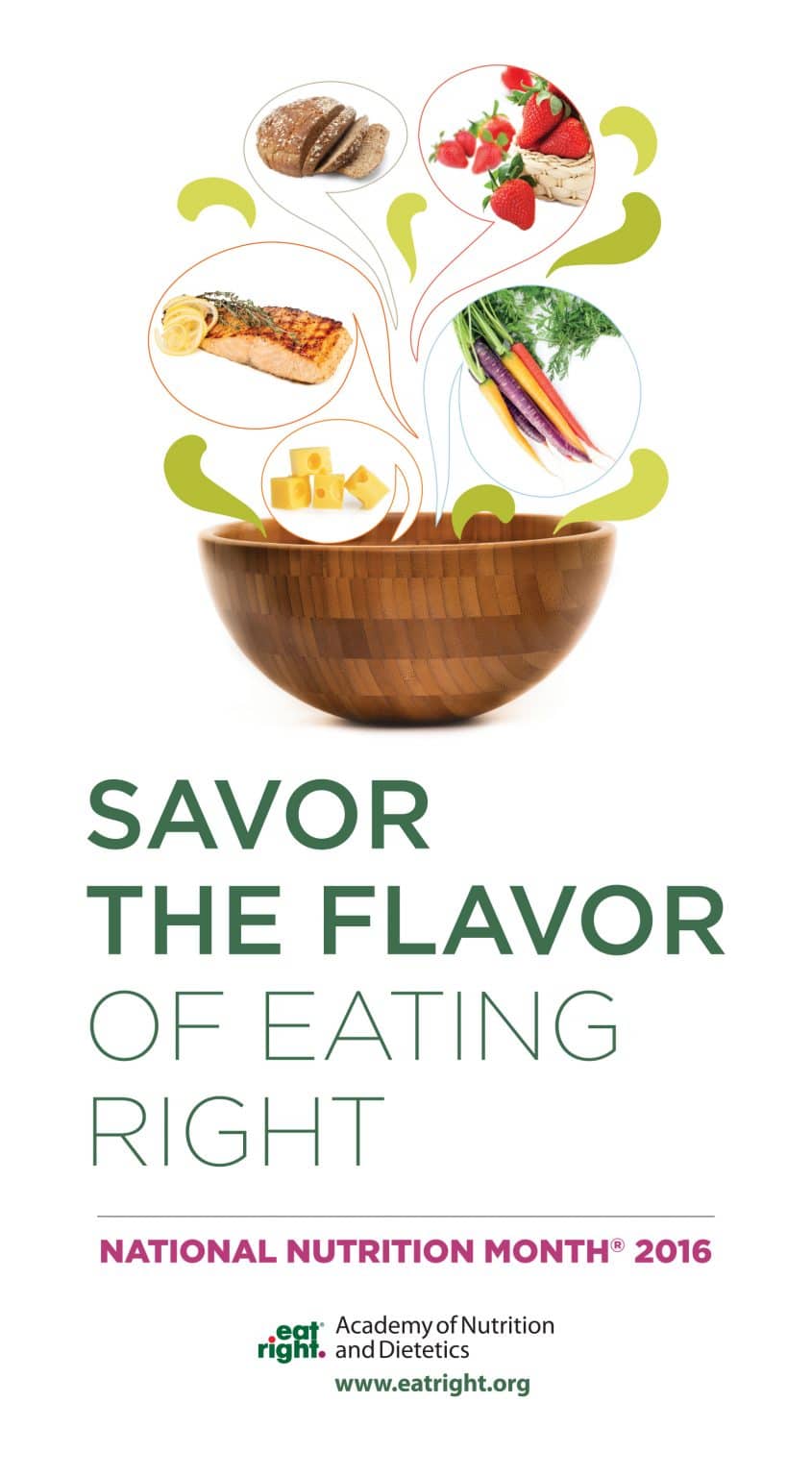 How, when, why and where we eat are just as important as what we eat. Making sure to enjoy the sights, sounds, memories and interactions associated with eating are essential to developing an overall healthy eating plan. That is why, as part of National Nutrition Month® 2016, the Academy of Nutrition and Dietetics urges everyone to "Savor the Flavor of Eating Right." This year's theme encourages everyone to take time to enjoy food traditions and appreciate the pleasures, great flavors and social experiences food can add to our lives.
"This year's 'Savor the Flavor of Eating Right' National Nutrition Month theme is a great reminder for everyone to develop a mindful eating pattern that includes nutritious and flavorful foods, while also taking the time to enjoy everything that a healthful and tasty meal brings with it," said registered dietitian nutritionist and Academy President Dr. Evelyn F. Crayton.
"Slowing down and taking time to appreciate the positive emotions that accompany mealtime are important steps to developing a sustainable healthy eating plan," Crayton said. "The knowledge and experience of registered dietitian nutritionists is one of the best tools for striking that balance between creating a healthy lifestyle that includes the foods and activities we enjoy with those we need."
As part of this public education campaign, the Academy's website (eatright.org) includes a variety of helpful articles, recipes, videos and educational resources, all designed to spread the message of good nutrition and an overall healthy lifestyle for people of all ages, genders and backgrounds. Consumers are also encouraged to follow National Nutrition Month on the Academy's social media channels including Facebook and Twitter using the #NationalNutritionMonth hashtag.
###
The Academy of Nutrition and Dietetics is the world's largest organization of food and nutrition professionals. The Academy is committed to improving the nation's health and advancing the profession of dietetics through research, education and advocacy. Visit the Academy of Nutrition and Dietetics at eatright.org.
Online Seminar
We offer a free bariatric surgery seminar presented by John Ganser MD, FACS. Please register to learn more about:
Western Surgical's Bariatric Surgery Division - Western Bariactric Institute
The Obesity Epidemic
Weight Loss Surgery Options