Bariatric Meal Replacement Shakes
Bariatric Advantage nutritional supplements and products are scientifically formulated to meet the specialized nutritional demands of patients who have undergone bariatric surgery or are following a medically supervised weight-loss program. We believe that through quality and adherence to scientific principles, we can help support a vision of life-long health for bariatric patients.
Long-term weight loss – it's a lifestyle. To maintain a long-term weight loss and healthy lifestyle, you are faced with choices every day. Not one bad meal at In-n-Out, even if you got Animal Style fries, is going to make you gain weight, just like eating one really, really healthy salad isn't going to help you lose weight. Losing weight is a journey. It takes dedication, hard work, perseverance, and confidence. Confidence might be the hardest one, because it's confidence that has to come within.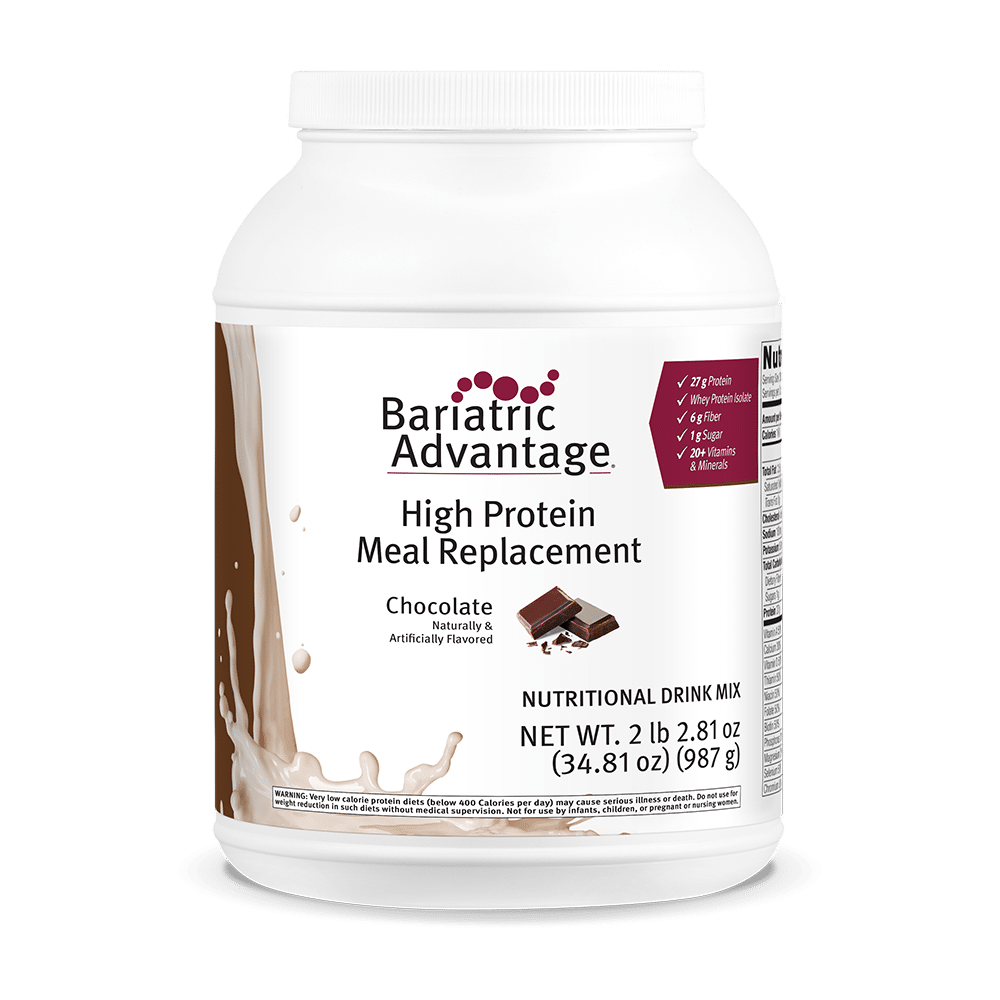 Weight loss surgery takes awhile to get used to, you have to be happy with the choices you are making. Rather eating a handful of pills, vitamins, and supplements, you need to start slowly getting these nutrients from your food, and bariatric meal replacement shakes are the perfect place to start.
Bariatric Advantage High Protein Meal Replacement Shakes help you prepare for surgery and work for almost all stages of your post-surgery healthy lifestyle. Bariatric Advantage High Protein Meal Replacement HPMR features high-quality whey protein isolate with 27 g of protein, 1.5 to 2.5 grams of fat, 150-160 calories, 11 grams of carbohydrates (6 from fiber and 1 g sugar), and 20+ essential vitamins and minerals.
Key features of the Bariatric Advantage Meal Replacement Shakes:
High Protein – 27 grams Per Serving
Enriched with 23 Vitamins and Minerals
Low Fat – 1.5grams Per Serving
Low Sugar – 1 gram Per Serving
High Fiber – 5 grams Per Serving
No Gluten-Containing Ingredients
150 Calories Per Serving
Use as a Meal Replacement Shake for Breakfast, Lunch or Dinner
Protein is From 100% High-Quality Whey Protein Isolate
Easily Mixes with Water
A great tool for pre-surgery preparation and post-surgery nutrition
While you are working to step away from bariatric supplements, pills, and bariatric patches choosing a bariatric meal replacement shake will help put you on the right path to choosing foods that contain the essential vitamins and minerals that are within your meal replacement shake.
Contact Western Bariatric today and let us help you choose the right bariatric meal replacement shake for you and your weight loss journey.
Online Seminar
We offer a free bariatric surgery seminar presented by John Ganser MD, FACS. Please register to learn more about:
Western Surgical's Bariatric Surgery Division - Western Bariactric Institute
The Obesity Epidemic
Weight Loss Surgery Options